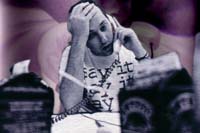 Hello, my name is dave and this is one of my spaces. Do you like it? I hope you do.
This is where you'll find out more about me, what I like and what I do. This is the place to stop by if you want to hire me, fire me, flatter me or batter me. If you want to know what I am doing more immediately, try my development server (http://dave.va.com.au.
---
What did I do before I became a virtual artist? Well I was a newspaper publisher, owned a bike courier company, used to program macintoshes and started a desktop publishing company, back when no-one else was. My Curriculum Vitae spills the beans.

---

I have two new exhibitions online as of Sunday 1 March 1998.

---

Here's a funny thing. Have you ever tried doing an Alta Vista search on your own name? It sure turns up some weird and wonderful results.

---

I've started playing with shockwave. My first attempt is a bit simple but yet kinda cute attempt to inteact with my bryce beetle. My second attempt is a little more complex but still nothing to write home about.

---

I've been helping my friend Paul Champion with a web page for his band Flat Stanley. They are cool.

---

My latest art exhibition is open. Race over to the parallel gallery & journal and click on the button marked dave sag.

---

Just for fun I've taken to diving into random people's web sites and manipulating their pictures. The last victim of my stray manipulations was Jeff Cook's daughter Mika. Moohaha...

---

I've got a fan! Yebah grandma, Steve Hite is a 3D Image freak and non stop party good guy and made mny site Number One on his top ten web sites list.


---

I went away on Holiday with my friend Kirsty. We had lots of adventures up and down the Eastern Coast of Australia.

---

Just to shit you all off, I went away on another Holiday with my friend Kirsty. This time we were heavily funded by Autopsy Press (web site pending right guys) in order that we should write a book for them. That book, called Coasting has been published but not by us! Legal action is pending.

---

The adelaide cyberfringe is officially over but the web site remains. Have a play, it's very interactive and even won an award.

---

I've been interviewed! If you have bandwidth to burn and can handle 9 megs or so of quicktime in one go then click here to see and hear me chat about the net and where I think it's all going.
(I was interviewed for 'Way Chillin' by Amanda Finnis.)


Links to much of my other stuff including
and of course what home page is complete without links to other links? go net surfin' crazy.
---
This page is maintained by dave sag. Please note that anything you read here is my opinion so please don't sue me. Please do feel free to e-mail me, add links to my urls to any sites you like, and if you happen to have tons of spare money, send loads of it.

The place to send the cold hard readies:
virtual artists pty ltd
187 rundle street
adelaide, south australia
australia 5000
phone +61 8 223 2288
---
this page was last modified on Wednesday 16 April 1997 at 1:20pm Central Australian time.
---
If you want to send me private or confidential email, use this pgp key please.

-----BEGIN PGP PUBLIC KEY BLOCK-----
Version: 2.6.2, by FileCrypt 1.0

mQBPAzNt5ZsAAAECAMbLHz/p8ugYRmpqOfb0R3z+SIuySa92TAm9LGNJNr13xV5x
bS2BF5QgFGBUW29rZfUWC11kKRR+P5HmKu5mtUkAEQEAAbQZZGF2ZSBzYWcgKGRh
dmVAdmEuY29tLmF1KYkAVQMFEDNtbhM/keYq7ma1SQEBTBgCAIvyMy+BNrX/97BQ
/NN6sC59YRjonjYL7rYKiL4Crp8hfu3J+tI9Olc4aWEhGcjqpnJvZhCeZJHv2S5q
glIsG9Y=
=HU2n
-----END PGP PUBLIC KEY BLOCK-----

Just in case you need to email me with something private. (download it)