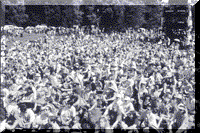 An index of indexes
Artists by name.
Artists by region.
Artists in order of performance.

or simple start browsing through them.
A word from our critics:
"The eclectism of WOMADELAIDE works. It has a wonderful sense of the unexpected, a bizarre melding of musical and cultural styles and a euphoric sense of goodwill."
Phillip Keir, Rolling Stone.
"The most eclectic, electrifying and exhaustive array of musical talent ever seen in this country."
The Bulletin

[Welcome] - [intro] - [sponsors]
[artists: by region, by name or by performance times]
[prices & booking] - [workshops]
[On Site Net Events] - [travel and accomodation]

site produced by virtual artists pty ltd
running on a very big machine at camtech sa pty ltd