Workshops - Interact!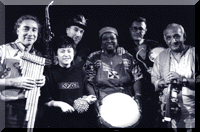 Daily programs with WOMADELAIDE Artists exploring music, art and artistry from the diverse world. This year artists such as Hukwe Zawose, Slivanje, Zap Mama and Stella Chiweshe will take sessions in the special workshop environment. A complete program of workshop artists and times will be available on Friday 24th at WOMADELAIDE and bookings for sessions will be taken at the Workshop site during the event.
Carclew Youth Arts Centre will also be hosting special workshops for young people throughout the weekend. A complete program for these workshops will be available on site during the weekend.
Details of the workshops are best found with the perfomance times (updated as soon as we get the info, if not sooner) :-)

[Welcome] - [intro] - [sponsors]
[artists: by region, by name or by performance times]
[prices & booking] - [workshops]
[On Site Net Events] - [travel and accomodation]

site produced by virtual artists pty ltd
running on a very big machine at camtech sa pty ltd